SR Smith Typhoon Right Turn Pool Slide – Grey Granite Pre Order For Late Jan 2021
SR Smith Typhoon Right Turn Pool Slide – Grey Granite Pre Order For Late Jan 2021
$4,365.00 Incl. GST
Offers all the fun of its big brother; the TurboTwister, yet in a smaller package for more limited deck space.
Stock due back Late Jan 2021
2.2m in height
Available with a right or left curved flume
Weight limit: 124kg
Sturdy rotomolded construction – for strength and durability
Enclosed ladder and molded handrail design for maximum safety
Designed for quick and easy assembly
Can be plumbed through the pool's return line or connected to a garden hose
Simple deck mounted installation – no anchors required
Intended for use on in-ground swimming pools only
Shipping – Please contact Go And Play for more details
115kg  | 1 Pallet: 140cm x 79cm x 229cm
Shipping Cost Range $130 metro QLD – $920 metro TAS
(07) 55806 6305
Out of stock
Description

Peace of Mind
All of our slides fully comply with the U.S. Consumer Product Safety Standard for Swimming Pool Slides, (16 CFR 1207). Whether it's our enclosed ladders, easy-to-grip hand rails or our nonslip treads, safety is engineered into every one of our slides.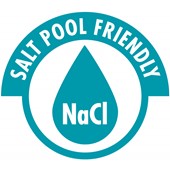 Salt Pool Friendly
We understand the benefits of salt chlorinator systems — that's why we've designed a line of products that perform well in salt pool environments. Our line of rotomolded slides have been manufactured with the most durable and salt friendly materials.